QUILA manages two vineyards: the main one – in the Langhe, on the steep hills of Cossano Belbo (map), province of Cuneo, total area of 2,2 ha (5.5 acres) and a smaller one in Monferrato, on the hills of Canelli, province of Asti, total area of 0.26 ha (0.6 acres). The estate in Cossano Belbo has also around 40 old olive trees and 60 young ones planted along the main road that crosses the lands and on the borders of the property. The young trees have been planted in 2021. Apart from these two pieces of land QUILA manages 1,5 ha of wild forest and also owns a tiny chunk of land (51 sq.m. / 550 sq.f.) just on the brim of the forest that covers Bric Bissarello, the highest point of "our" hill in Cossano Belbo, that gives the name to our top red wine.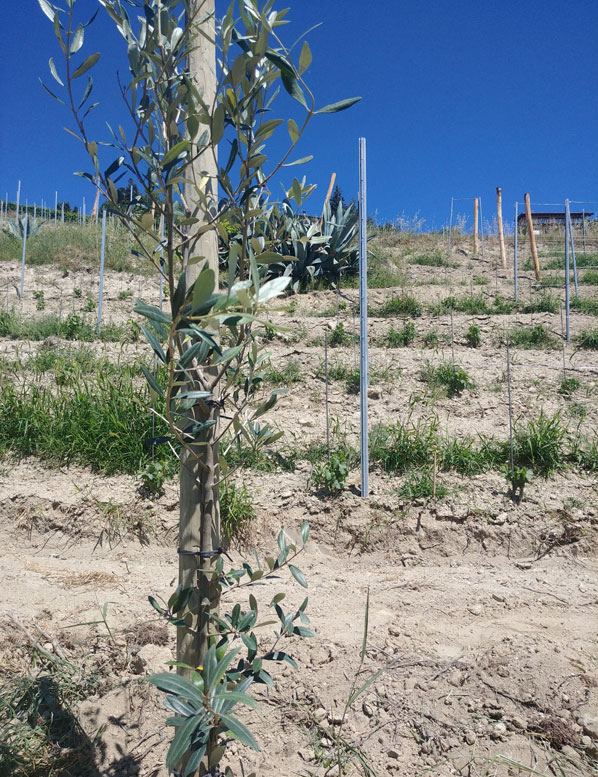 New olive plantings at QUILA Estate, 2021
Both QUILA's cultures – vineyards and olive orchard – are in organic conversion since 2020. But even before that no chemical herbicides have been used on the property for years.
Initially, the major part of both vineyards was planted with Muscat and only less than 10% of the total area was under red varietals, such as Nebbiolo and Dolcetto. In 2021 a huge restructuring plan was launched and now the vineyards look like this:
Cossano Belbo, subregion Madonna della Rovere, 350 – 420 m (1150 – 1400 ft) a.s.l.:
*

This

Nebbiolo

was overgrafted on a part of the Dolcetto vineyard in 2021 using "selection massale" material from our own Nebbiolo vineyard, planted in 1970. The first year of production will be 2022.
Canelli, subregion Castellazzi, 250 m (800 ft) a.s.l.:
The vineyard in Cossano also comprises a triangular form parcel called "The Collection" where some of the previous owners have planted several "not listed" varieties, such as Zibibbo, Favorita, Freisa, Barbera, Malvasia di Casorzo, Uvalino, Brunetta di Rivoli, Bonarda Piemontese, Barbarossa Piemontese & Teinturier ad acino rotondo . We are performing a small-scale scientific research, especially on the rare varieties.
In 2022 the second part of the replanting program was carried on. One part of the old mix-Moscato vineyard was pulled off and planted with Grignolino and Chardonnay, the latter looking forward to becoming Alta Langa DOCG when the denomination opens for new inscriptions. Also a part of the old Dolcetto vineyard was replanted with a massal selection of the rare varieties mentioned above. At the end of 2022 the total plantings look like this: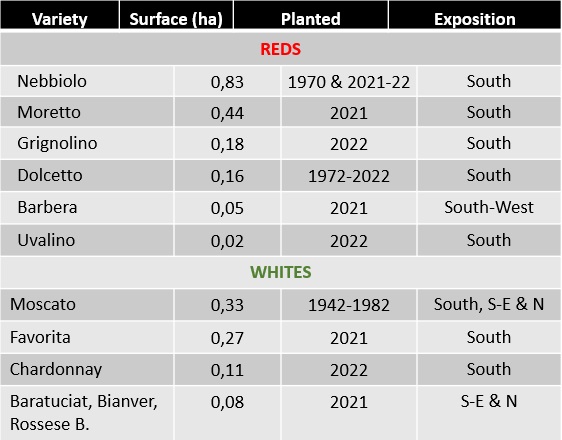 The vineyard in Cossano Belbo was certified Sorì Eroici («Heroes of the Hills») in 2022 – a designation given to vineyards in Langhe & Monferrato with inclination superior to 30%. The steepness of Quila's vineyards varies from 41% to 51%. See this page for more information.